Willerup Brothers | Trip reports | Our friends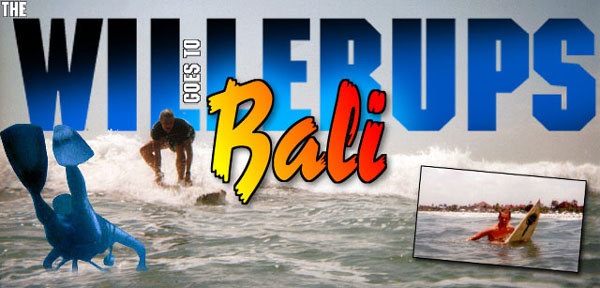 All the diving photos in here...
The whole Willerup family spend two weeks of relaxing holiday together on the exotic island of Bali in Indonesia.
We started of getting used to the extremely cool place staying at Mr XXX's bungalows at the south-west part of the Island.
(..)
After this we headed up to XX (before Lovina), snorkeling
The we went to Lovina where we took our diving certificates.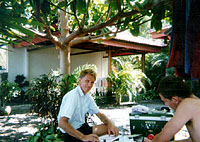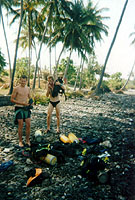 Fred had already taken his basic Padi certificate in the States and joined Henry Hasenpusch for a Open water Advanced course. I joined directly after my basic training and managed to get the open water advanced as well.
Henry was quite a character. He was a typical German having lived in Bali for ten odd years. He was an excellent diving guide who seemed to know all the cool places to go for some exciting diving. We went through the theory in the bar on the beach and we had an awesome night dive all of us. Setting of in a little Balinese boat out on the ocean at midnight was quite a wild experience. Totally good karma.
After having sailed for about half an hour Henry dumped himself into the pitch black water and we soon followed hoping that Henry knew what he was doing and that we could find our way back to the little boat afterwards.
The actual diving itself seemed a bit like cave diving floating around in a complete darkness only lit by you and your mates strong beams. It was unbelievable beautiful. Henry took us deeper and deeper though not exceeding 15 meters and we saw the most strange creatures imaginable. Square snakes about 1 meter in length, huge crabs, strange fluorescent plankton glowing just a second after you hid your light - cool.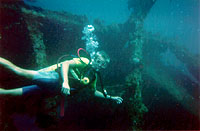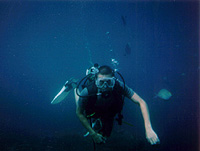 After half an hours dive we went up to the surface and had no problems finding our boat. We felt a bit hardcore turning up on the beach in our full scuba diving kit at 1-2 'oclock in the night with all the parties going strong. Great stuff.
Next morning we split with the rest of the Willerups (mum, dad and sis) and headed out to the XXX wreck at Tulamben with master Henry. We arrive to this pretty popular place and we need to get the deep dive and the wreck dive done to get our Advanced certificate, Yooor. We start of with the deep dive. Loads of others divers on the beach - in particular a pretty extreme looking babe strolls around amongst the divers and before we know it Henry is chatting her up forgetting all about his two innocent students (us!). Anyway - we eventually head into the water and start our descent into the abyss. We follow the huge wreck on our way down and we stop when we reach 35 meters. Everybody gives the okay signal and Henry hands out some small scribble plates where we have to solve a few mathematical puzzles - to check if we are affected by the Nitrogen Narcosis. We both seem okay and after 10 minutes or so on 35 meters we start heading upwards.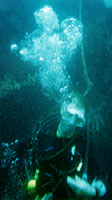 Second dive of the day is the wreck dive and we explore the St. XXX in closer detail. Again - like the night diving - it has certain similarities to caving, having to squeeze through old door opening, hatches, tubes and stuff, Yoist! We even see a turtle, and a lot of other strange creatures of the water world.
The peak of the wreck dive is when we round a corner following Henry and we see the shocking sight of Henry strangled by his neck in an old rope hanging from the ship. Crazy guy...

In the evening Henry heads back to his family in Lovina and we stay in Tulamben for the night.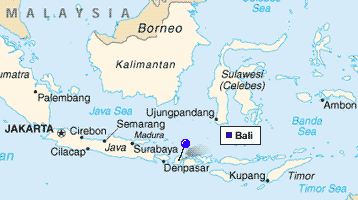 Next morning our objective is headed towards the heights - the highest peak on Bali - XX mountain and holy 3.??? meters volcano. We sort out a dude with a car and he drives us to the temple at the foot of the mountain and he waits for us for the six odd hours it should take to climb the mountain. We head off in shorts and I in my Tevas hoping for a walk in the park kind off trip. Thought not a technical climb at all it does turn out to be a pretty hard little nut to crack as it is bloody hot and after a while my Tevas doesn't really provide the support which real hiking boots does. But nevertheless we arrive at some stage at the top of the volcano looking into the huge crater - still smoking a bit since the last eruption in 196?. We consider descending into the crater but after some sain thoughts we decide better not to. It is 100% loose and we don't want to end up stuck as sacrifices to the holiest of volcanos on Bali. So we push a few HUGE boulders into the crater and feeling satisfied by our sacrifice to XX we start heading down again. Quite a nice trip.
Our friend with the car is luckily still there as we return at the foot of the mountain and he drives us to Ubud - where the rest of the Willerups is residing. We arrive later in the afternoon and rejoice with our family.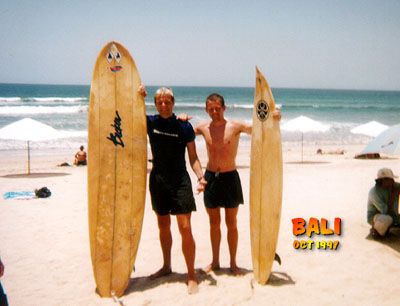 Ubud is nice but Fred and I decide to leave for Kuta Beach the next morning.
Kuta Beach is very different from all the other nice places we went to on Bali. Totally ruined by tourism Kuta is a complete contrast to the rest of Bali. Half of the experience on being on Bali is meeting the unique people and if you find yourself on the island one day then don't be stuck in Kuta - go and visit the rest of the island.
Well we where fairly excited nevertheless by this sudden change in atmosphere - it looked like we where finally going to get some good old babe watching, surfing and partying done. Not to waste any time, we checked in on cheapest little youth hostel, rented some surfboards (a long board and a short fun board) and headed into the waves of Kuta Beach.

Yooooist - this was a pretty good introduction to surfing for me - Fred had tried it a few times on his own in San Diego - but I was a complete novice in surfing. But no doubt having done a lot of windsurfing back in good old Denmark helped a lot to conquer this reasonably difficult sport.
After a nice day on the waves we went directly to bar crawling the long beach of Kuta. Great night.
Next morning - headed out for the waves again (this was our last day on Bali unfortunately) and I started to get the hang of it. Fred already was okay at standing upright on the little board and I managed to do it a few times as well - totally cool experience. After lunch we bought a disposable camera, and went out for a photo shoot. Check out some of the photos here on the site. Our little photo session had a bit of a dramatic ending when I was trying to get Fred up real close passing me on a big wave, where instead he BANG went straight into my forehead. Luckily I didn't pass out and fortunately my dear old brother hit me with the less pointy long board and not the really sharp fun board.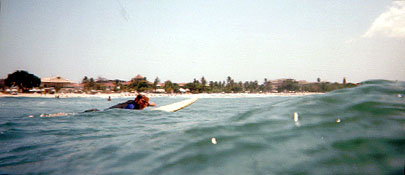 Well I still had a big bleeding wound and we went straight out of the water. No more surfing for me - just cold ice on the head and lying in the shadow for the rest of the day while Fred continued enjoying himself surfing trying to hit more people. Naturally I would have done the same.

When we met with the rest of the Willerups later that same day they were of course a bit concerned, but seemed like they where expecting some like that to happen to their two uncontrollable sons. After a nice little afternoon meal I even managed to drag myself into a clinic and get some stitches sewed into my poor old head.
After an hour or so on the surgeons table I rejoined the family and we had our last banana spil, headed of to the airport and soon found ourselves in our comfortable Singapore Airlines seats on our way back to Copenhagen.
---
1996 - 2018 Willerup Brothers