Willerup Brothers | Trip reports | Our friends
Drilling in Trou du Diable, Vercors, France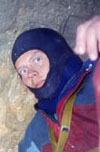 By Mathias Willerup

By Mathias Willerup, 9 December 2001

I was completely fired up this weekend by the successful UK campaign and just had to have more unrock. It seems people are getting more interested down here and I might be able to recruit some porters if I play the cards right.

Under the cover of a hike I managed to persuade Céline for a two day hike into Trou du Diable. I brought *all* the gear - camping gear, caving gear, tent, stove, food, 100 m rope, drilling kit and bolts. Boy was I racked up. I had to wear the ropebag on the front and stodge all the rest in a bag from hell on the bag. Céline took her share which was good.

Excellent camp in the middle of f*cking nowhere and with absolutely fantastic weather. Crisp (minus 10) clear starry night (superb) and excellent campfire. All this was right down Célines street.

Next morning stodged along to finally reach the Trou du Diable - saw an excellent deer on the way - big motherf*cker with horns and everything - you probably saw quite a few in Disneyland Unstone. This one was the real stuff though - only made eye contact like 300ft away, but even so it was awesome. Just adds to the wilderness feel of this amazing place.

The caving campaign was not a complete success. The original goal was as you know to create a new line in through the rift I'd discovered on our last trip up here. Slightly more nervous than on the last trip I descended to the rift entrance - after having informed Céline what to do if something went wrong. It doesn't "feel" very clever to go down alone, but as the other speleologist can't do much anyway in case of accident there shouldn't really be that big a difference. Theoretically.

The rift looked tighter than last time, and was filled with flies and spiders and spiderweb (like Disneyland?), which made it quite unpleasant. I tried squeezing through the rift but it wouldn't go. I took off all the srt gear and it still wouldn't go. It just didn't feel right. I less convinced that this route is a good idea now. (Note: I did get through it in the spring. Maybe the earth had shrinked a bit due to the cold?!)

I pulled the handle and went out into the open shaft again and decided to try and do some more decent bolting that the lack of bolting that was already not there (!). This actually turned out to be an excellent learning exercise in choosing the right place to spit and to get into a conformable position for the hammering. This is not piss easy. I'm adding a sky hook to the caving rack from now on.

I think I managed to do quite an improvement to the line - I setup a nice y hang which takes you straight down to the place where Martins bolt ripped 6 months earlier. I didn't continue down the line, this is still down for grabs and should be done by installing a traverse line.

After a bit more than an hour in the shaft, a few nasty blisters on the hammering hand (hard work - bring leather workman glove next time), I surfaced to a happy Céline who had painted the whole area on her watercolour thingy while also brewing nice hot tea from the available snowpatches. Good job.

A fast two hours walk back to the car (which wasn't parked at the car park of course - there is solid ice on a lot of the road up there), I was well pleased about the weekend untick. And it was good portage training if anything. I was (and am now) completely knackered.

The cave is now ready for a full on AHPES campaign. The bottom awaits.

---
1996 - 2017 Willerup Brothers