Eastwater Cavern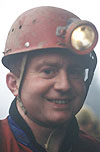 By The President

By The President 15 June 2001

Definite teutonic tendencies towards order here. Good caving trips are ones where you go somewhere different. Such trips do not always go smoothly. Anyhow I navigated rather than led and we had a strong team.

The trip last night did not go smoothly. But who cares foot and mouth has stopped all caving until now and for a terrible moment I thought we might not get in at all. Swildons is closed despite notices in the caving press saying that it is. I enjoyed last night so much it is unbelievable.

In mathias's terms instead of pushing the frontiers of Eastwater which we were attempting to do by taking a ladder bag for the Mud escalator. We ended up doing the Wessex's training route yet again!

Worse we ended up lugging an extra tackle bag around Eastwater, I'm glad Martin was a super hero and took the one with the two ladders in.

I ignored Natalies hints that she was getting tired elected to do the 13 pots trip the hard way around (up the 13 pots). Paul put me to shame by cajoling and pushing Natalie up the pots after she tired and started trying to pull herself up each pot. Martin was up front oblivious of it all. I looked on helplessly letting Paul sort it out. Luckily he did.

The ladder pitch had two incidents on the way out. The first was a tired Natalie who elected to use her arms to ascend the ladder. Luckily she was able to rest herself on the ladder itself a couple of times and get up. This is not always possible as the strength goes completely in the arms. The second incident was with me on the ladder, we did not notice that the lifeline was threaded through two ladder rungs when it was passed down. Big oops I got 3/4 of the way up and realised that I had to either go down or remove myself from the lifeline temporarily. Paul shouted sound advice about clipping on with a crab to the ladder while I adjusted the lifeline. However the treehouse bit back I had lost a thumb nail after hitting it with a hammer. So I could barely undo a crab with this hand and so I simply unclipped left the lifeline behind.

We also missed the pub.


---
Jethro Tull | About Frederik | About Mathias | �1996-2013 Willerup Brothers