Willerup Brothers | Trip reports | Our friends
A Note on Cave Ethics
By Roy Unstone 19 October 2001 (HPCC Ethics Sub-Committee)
Readers of the HPCC newsletter may not realise that these apres-cave pub visits are an essential component of a strict caving ethic. They may be under the misapprehension that the likes of Dr Martin Beale and Roy Unstone are alcoholic wastrels who cannot allow the earth to complete a turn without recourse to the liquid of life: lager.
Nothing could be further from the truth.
In rock-climbing it is considered bad form to rest on any of the protection devices found or placed on a route. An ethical ascent sees the climber make his or her way to the top by their own strength alone. This leaves in place a similar challenge for all who follow. The rope and the protection devices are there to prevent damage to the climber through contact with the ground.
In caving we observe a more laissez-faire approach. Reliance on the equipment, not only for access and safety, but also for rest, is customary. In fact, a caver could even take lager into the cave, rest on a ladder or a jumar during a strenuous section, and thus obtain full recovery. Those who follow would know nothing of the indulgences of those who went before, and the challenge they face might therefore be different.
This could lead to tragedy.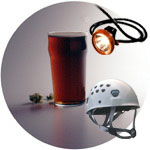 The risk is that party A might tackle a cave above their abilities because they know party B has done it, and they believe themselves equal in skill to party B, and thus able to return before closing time. However, unknown to them, party B may have taken much longer to complete the expedition, and been able to endure well past closing time, because they had pre-installed some lager in their car, or had carried some lager with them.

The solution to this issue is simple: exploit the UK's punitive, unfair, and human rights abusing licensing laws, and insist that an ethical caving expedition carries no lager, goes in at 7:30pm and is out such that the team is in The Hunters, Priddy, before closing time.

Under special circumstances an earlier start is permitted, and when caving in Wales or Yorkshire it is permissible to substitute another pub if necessary.

By analogy with the climber's use of protection devices for rest (in the case of weakness) and avoidance of injury (in the case of a fall), we have installed the Kingsdown Emergency Beer Depot at the home of Dr Martin Beale so that members of an expedition which misses closing time can ensure they are not damaged by impact with a non-lager situation.

Of course, use of the Beer Depot or exploitation of after-hours leniency by the landlord/lady, implies an ethically compromised descent (and we have had several of these lately), but the cave will still be there for next time.

---
1996 - 2018 Willerup Brothers