Last updated: Friday, 27 February, 2004 10:14
Successful AHPES trip to Ogof y Daren Cilau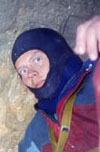 By Mathias Willerup
By Mathias Willerup, 1 December 2001
Following the successful second trip in the weekend Unstone and Martin was fired up for more speleoactivities. I was supposed to work the whole week but seeing where things were going I realized it was better to take the day off.
With the gear barely dry from the Sunday OFD trip we headed off early Tuesday morning after a quick cup up tea in the Kingsdown Beer Depot. We had gone fairly easy on the lagers the evening before and was all in good shape and spirits as we arrived in Crickhowel for some breakfast in the local combined Cliff Richard Shrine and excellent breakfast place.
Well stodged up we headed up towards the magnificent Llangatock escarpment which had already seen a fair bit of action from all of us in means of caving trips and also some excellent climbing trips.
With usual AHPES efficiency we got changed, and headed by a slight deviation to the miserable looking (I actually think it's awe-inspiring) little triangular entrance to Daren Cilau.
Photo: Unstone through the StalSqueeze

As I had been through the entrance bit as far as the Big Chamber I took it on me to speed-lead the boys all the way to this Big Chamber. I had urged the lads not to bring anything that couldn't fit into the inner pocket of the oversuit and this paid off in the 600 meters sustained entrance crawl. We executed it in 65 minutes and popped out into the t-junction that leads to the Jigzaw passage. Although we were fast I was on a mission and as Martin was sitting filling his carbide container with one drip of water at a time in the little stream I could see the record time disappearing into the muddy stream. I took over and filled his baby in 1 second using an onsight glove-filling trick. This was to be the start of a finely tuned team descent where we all helped out where need be, and everyone took leads and followed their respective surveys and books accordingly.

With Martin's carbide filled up we set off again and came to the Old Main chamber. Here we ferret'ed around a bit with me misleading into a brief muddy dig but then we took a good readout from the book (Unstone was in charge of this, where Martin and I had surveys) and 1-2-3 - there it was: the well polished and amazing key into the historical boulderchoke leading down to Jigsaw passage. As we entered Jigsaw I urged the boys to speed (caverun) down the alleys and just focus on getting to Big Chamber in record time. We reached this enormous chamber uneventfully and I headed over to the log book and put our entry in. We seemed to be the first in the cave since February which felt pretty good. The Willerup Brothers historic entry from November 2000 was still in there.

From Big Chamber the navigation starts become a bit more difficult and we were also now venturing into new AHPES territory and the team started to work its magic. Unstone seemed to have realised that he had somewhat the key to the route in the book and took his job very seriously and was quietly exploring some upwards boulderslope while I was following the more natural line past the boulder slope with Martin behind me checking the survey. If you were not attentive in here I imagine you could spend quite a bit of time going down the wrong passages as there are plenty of them, and as we were to discover with Daren - the biggest and most obvious ones are rarely the ones leading the right way.

Unstone seemed to have cracked the puzzle and shouted from above the boulder slope that he'd found some little passage. I was about to argue that it "looked more like this way" as I was entering some big continuations in my direction but Martin strung it together confirming it on the survey and we all rather excitedly entered Unstones find.

Roystone still confident lead us through as nasty flatout crawl and into the Royston 5 ways Chamber. After a bit of discussion I led on - neither me nor Martin was convinced this was the true 5 ways chamber and as before out little team had made a good quick decision. We arrived at the true 5 ways chamber after some intriguing drymud tunneling and as the guidebook says "the way on is the smallest of the 5 ways". Classic Daren style.

This lead us down to Valentines Chamber from which a fairly ugly squeeze (now Unstone was back in the lead) took us further to the amazing 22 meter fixed ladder. Roystone still in the lead headed up this and we soon followed. You can't help but think about Tony White's first ascent of this pitch, in wellingtons and with very little protection.

Photo: Climbing the ladder pitch

A short oxbox and a couple of roped pitches down again and we were at the White Passage. I had a hunch (looking at the survey and listening to Martins compass bearing announcement), that the way on was downwards - I could feel the void coming. We headed downwards and joined the obvious "Red River" and we now knew the Time Machine objective was within reach.

Probably at the point where Tony White turned back to get his mates we started feeling that there was something big approaching. And wow, was we impressed. The Time Machine is absolutely huge and just goes on for ever. Unreal to think that this sort of chamber can exist underneath the gentle looking Llangotock mountain. The objective was met in record time, we took some photos and the plan was to return to the surface and hopefully establish an honourable in-out time confirming the AHPES as the Association of HP Elite Speleologist. But one of us wanted more.

Martin was going further and further and at the end couldn't take it any longer. "Lads, let's go further". A bit of argueing about the original objectives, mostly from me - I always am a bit weary about changing objectives at the goal, I was getting pretty knackered, but actually I really did want to try and get a sub 5 (?) hours for the shear festivity of it. But Martin took a wise decision - he carried on on his own!. Again a good move as further discussion would have got us nowhere and we had no alternative that to follow. Due to commitments in the evening (when do we learn not to make any plans for the evening of a speleotrip) we did decide that our turn around time should be 3'oclock which would keep the timeplan and keep everyone happy.

As we headed down the amazing continuation from Time Machine we all was 100% on for the medium. This baby just kept drawing us in. The route to the "bonzai three" (a little pretty formation) was absolutely superb - a streamway passage lavishly decorated and well, just plain and simply superb caving. We were still doing a fair speed and as the clock turned 3pm we were at the Kings Crossroads which probably was about 15 minutes from the end of the possible trip - the terminal sumps. But the decision had been made earlier, and we spend around 30 seconds enjoying being this far in the cave, and now had a long but enjoyable trip out into freedom which was achieved in around 3 hours making a total underground time of 7 hours. Unstone lead the crawl out in incredible speed and after careful assesment from Dr. Beale on the whole trip Unstone was readmitted into the HPCC Elite Speleological Unit.

An absolutely superb trip, possible the best sporting trip I've so far been on. The obvious next step is to get into cave camping and fire up the link to Aggen Allwed and Craig y fynnon.

2 years later we got all the way to the end (or start?).

1996 - 2013 Willerup Brothers