Willerup Brothers | Trip reports | Our friends
About me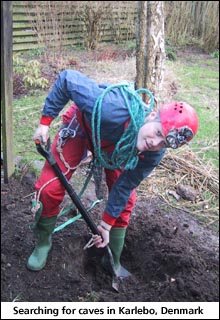 I was born and raised in Denmark, just north of Copenhagen. This is a great place but far from any mountain, rock, rivers, or caves... So by my mid-twenties I had to get away!
I took up climbing and caving in Bristol late 1992. Particularly the climbing became quite an obsession with me. In 1996, the obsessive behaviour was turned towards kayaking when I spent a lot of time on the Idaho rivers on a 3 year work assignment in the US. I also did a fair amount of skiing and snowboarding at the local resort Bogus Basin

and at other resorts in the area.
After eight years abroad (including an nice adventure in Mexico), I have now moved back to Denmark in search of what doesn't appear to be there. I have decided to dedicate my life to finding an adrenaline medium in Denmark- I am convinced that there must be rock or caves somewhere on these islands. My leads so far include some glacier rubble (where is the hidden crag?), and out in the fields there are lots of sink holes which unfortunately have little ponds in them (sometimes with ducks). Maybe they are just draining very slowly? I am still searching!
I like putting together lots of sad lists of various things I've done. I have all logged all my climbs on AdventureHut, and I also keep lists of my river trips and caving trips. They'll be updated when I find something to do in Denmark.
Take care,

---
1996 - 2017 Willerup Brothers