Willerup Brothers | Trip reports | Our friends
Ice Climbing
April 2010
Great trip to Rjukan, Norway with Tim and Paul.
January 2003
Ice season in La Grave was fantastic this year. Sean was down and we had quite a day out on Caturgeas, La Grave. Later in January Tim and Paul came for some more action. Got some great photos from the season - a couple of them available to spice up your desktop background if you like.
Feburary 2001
As many of you know, I have been in France since the start of the year after a number years in England. One of the things France has that England lacks is reliable ice climbing conditions. Grenoble where I currently live is right on the doorstep of one of the biggest waterfall ice climbing areas in Europe if not the world.
Just like normal climbing France has very easy access to the ice, safe bolted belays and even bolted ice routes. Less adventurous than England, but in ice climbing you actually appreciate this - at least to start with - as the nature of ice climbing is arguably more on the edge (read dangerous) than normal rock climbing. Much more objective dangers.
I have only scratched the surface of the climbs down here - I have so far enjoyed a few of the falls in La Grave, the incredible sunny ice of Alpe D'huez and the magnificent multipitch and more remote routes of Vallon Diable.
January 1998
Central Gully, Great End England with Tim. My first go at ice climbing. "Steady blows mate". Thin ice. Dislodged a boulder. Climbed on my own axes that I had just sold to Sean.
The Tools
A great thing about ice climbing is all the required and highly specialised tools that you'll need. Once you get the equipment you can spend endless evenings customising the little babies and optimising them for top performance. Below is a few shots of the alterations I've done to my kit so far.
Monopoint kit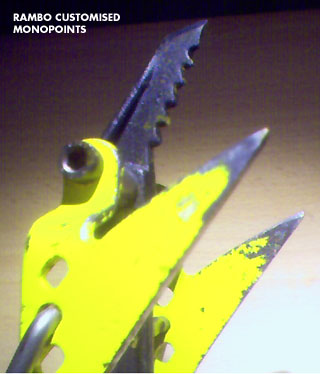 As far as I see it monopoints is far superior to traditional double front points when it comes to climbing steep water ice. Here are my experiences so far:
You have to be more carfeul about your placements, there's more strain on the ice and it seems that you are more likely to break something off. So you place your feet much like you'd place your axes.
In theory you should be able to slot the monopoint into your previous axe placement - a superb idea, but I found it almost impossible to look down and spot the hole if the ice is more than 80° vertical. Add a bit of spindrift to the climb and it'll be even worse. Maybe there's a way around this I am still to find out.
Although I haven't climbed any rock with the monokit yet it makes sense that they must faire much better that its brother on the dry medium. Although you need to balance your foot/leg much more, it shouldn't wobble off, and your choice of placements are also increased - you can slot the point into cracks for example.
Filed pick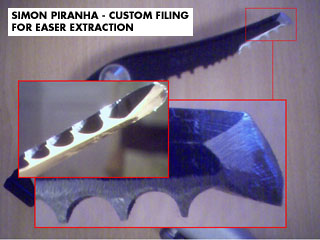 The filed ice pick. This is a tip taken from Jeff Lowe's book about ice climbing. When I got my Piranha's I had a go first time out on the ice with the standard pick. It's really difficult to get out bordering to the rediculous - you seem to spend most time and energy on desperately trying to get that axe out of its placement. Anyway - I filed the first 4 teeth to a bevel shape and I filed the first tooth down in level with the actual tip. It's definately works - they feel easier to place and easier to remove (of course you don't want axes that are too easy to remove).
I used a standard metal file for the job - don't be tempted to use a machine. The heat generated on the metal can destroy the hotforging that the metal supposedly is treated with. And what better thing to do a weekday evening than to sit and sharpen your tools. Sure beats watching the television.
---
1996 - 2018 Willerup Brothers