Willerup Brothers | Trip reports | Our friends
Climbing the Matterhorn
Date:
19-28 August 2000
Terrain:
Big mountain, loose rock
Area:
Pennine Alps, Italy
Climbers:
Uffe, Sean, Frederik, Mathias

Sean, Uffe, Mathias, Fred
We went to climb the Matterhorn by the Lion Ridge (also known as the Italian Ridge). The more common route is the Hornli Ridge which starts in Zermatt on the Swiss side on the mountain. Our route climbs from Italy, starting at the little mountain village of Cervinia - a popular ski resort in winter, and a popular place for tourist in the summer. We had a great time. First we spent three days climbing Castor and Pollux in order to aclimatize for height of the Matterhorn. After a rest day we spent another three days on the Matterhorn, standing on the summit August 25 in perfect conditions.
We wrote a trip report down there, and took a bunch of pictures.
---
The BETA (Information for other climbers)
We climbed the Matterhorn without the use of a guide, and this information is for people who wants to do the same. If you have a guide, there are a lot less things to worry about! Let us know if you have any questions- perhaps we can help out before your trip. First of all, there is information in the trip report, and you can also look at our pack list.
In Town
Bus to Cervinia from Milano Piazzo del Castello - cheap, but doesn't leave to often.
In Cervinia: Don't expect to be able to buy too much equipment or similar- we didn't find any climbing gear shops! There are plenty of shops that sell knitted sweaters with Matterhorn profiles on them though!
Competent and helpful staff in the guide office on the main street. They know the conditions, and they helped us out with numerous questions about what to expect in various huts etc.
1:25000 topo maps (not brilliant) of various areas in a bookstore on the left side on the main street (or ask in the guide office)
Hotel prices: 20 pounds a night per person in double room.
Warm-up and Acclimatisation: A few days in the Western part of the Monte Rosa range are very recommendable. Ascending Pollux from the South-East gives a tiny taste of the type of conditions to be expected on the Lion Ridge of the Matterhorn.
Preparation
Clothing: Bring full winter gear with plenty of warm clothing as winds can be severe.
Boots: For us, leather boots (heavy hiking boots or light mountaineering boots) worked fine.
Hardware: Ice axe, crampons: We didn't need them except for the very last traverse from the Italian to the Swiss summit. This situation can change from day to day with a little precipitation (like on any mountain). Most people bring them just in case.
Protection per rope team A handful of nuts half a dozen slings half a dozen quick draws. There are bolts (or chains) where you really need to clip in, except for a few spots where we found it useful to put in a nut or two.
Huts: For some reason we had a hard time finding information on the web about huts- The CAI web site has it all!
On the Mountain
The Matterhorn: Taking a jeep from Cervinia to the Abruzzi hut (leaving regularly from the hotel at the end of the main street (at the top of a very recommendable bar!) will cost you 10 pounds but save you 1000 vertical meters. Soft? Perhaps, but we enjoyed the ride!
The Carrel Hut: Fills up quickly so arrive early to get a good position if you can. The line to the stove can be long so you may want to bring your own stove and pots.
The route finding is relatively obvious, except for a section just above the Carrel hut (at about 3900m). If you have time (and energy!) the night before it could pay off to find your way up to the 4000m mark with no packs so you can move quickly in the morning.
It took us 5.5 hours to go from Abruzzi to Carrel.
We started climbing from the Carrel hut at 6am, made it to the top by noon (6h), spent about 1/2h on the summit, and spent 7h getting back down to Carrel. We were suprised how slowly we climbed down. The guides climb fast by lowering their clients on the hard bits, and soloing down after them (belayed from below). We tended to abseil those sections which cost us lots of time but perhaps safer.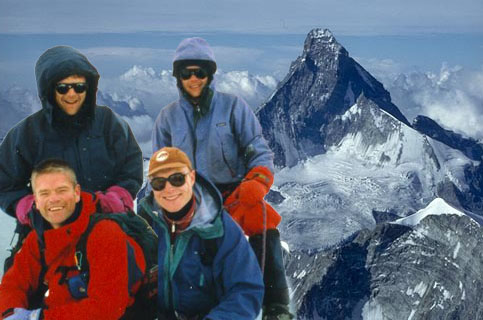 Fred, Mathias, Sean, Uffe, Matterhorn
Matterhorn facts
Elevation 14,691ft (4,478 m)
Latitude - 45° 58' N, Longitude - 7° 39' E
First climbed in 1865 by Edward Whymper in an epic ascent where 4 people died on the descent.
---
1996 - 2018 Willerup Brothers