Willerup Brothers | Trip reports | Our friends
Date:
19-28 August 2000
Climbers:
Uffe, Sean, Frederik, Mathias
Terrain:
Big mountain, loose rock
Area:
Pennine Alps, Italy
---
Day 1
19 August 2000
Team mood:
Absolutely plastered, drunk as idiots
Report written by Uffe, Fred and Mathias. One big lovely mix.
Click here for a printable version without images (same text)
Uffe starts... Mathias, Sean and Fred. started in Bristol Airport. Uffe from Copenhagen. Everyone met in Milan Airport.
Milan - Cervinia, VHS (due to heat). 3 hrs, plus waiting 3 hrs. 10 quid, plus 20 quid for the beer while waiting. Beta: Take a seat in the back so you can comment the attributes of your fellow busriders. They're worth it.
Cervinia: Touristy place, rather on the expensive side, but fun nightlife with plenty of sights. Classic hotel host - "the weather will be fine the next few days" type of bloke.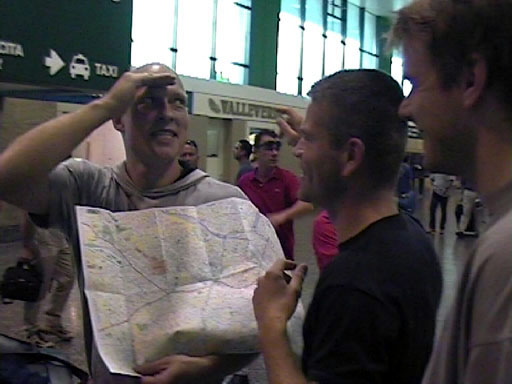 Where is that mountain?
We drink a bit in one bar, but quickly move to another. It is a cosy little place with comfy sofas- feels like an opium joint! It has free snacks lined in the bar, so given we haven't eaten dinner we spend quite a bit of time grazing. The evening develops- none of us thinking in particular about being in shape for tomorrow. Uffe holds back a bit to start with, but suddenly gets into it ordering the most alcoholic cocktail in the bar. Needless to say we end up dancing down the empty streets at who knows what time in the morning!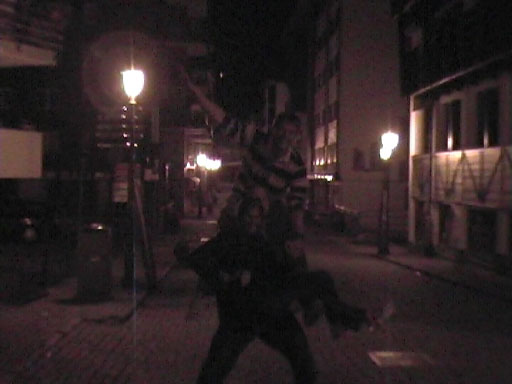 Acclimatising by climbing human mountain
Day 2
20 August 2000
Team mood:
Hungover, but commited
We woke up in very decent time in view of the ultra festive night before. It took a while getting the gear ready- we had counted on loads of gearshops in Cervinia but there seemed to be none. So Sean had to head out with two different crampons, and uffe didn't get a rucksack buckle he needed. No big deal.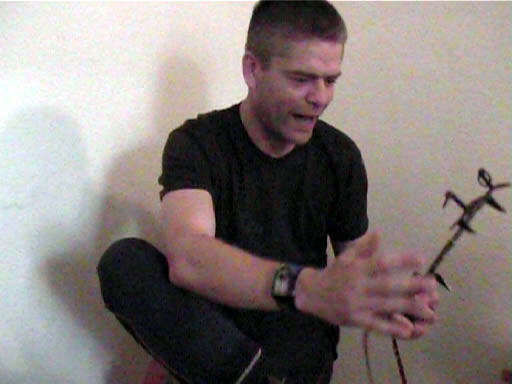 Damn- wrong crampon!
We head up on the teleferique which at this time of year takes skiers onto the glacier skiing area below kleine matterhorn. We are the only climbers there- very surprising because we thought it was high season. It turns out that everyone seem to start from Zermatt, not Cervinia.
Now where is little Fred... come out and see the view!
We rope up for the first time and head up the mountain, immediately regretting the amount of drinks we had last night! We make it across the ski slopes and up to Kleine Matterhorn and the Breithorn pass at 3800m. We feel the altitude at this point- especially Uffe and Fred who have some headaches.
There are some brilliant view of the Matterhorn from up here-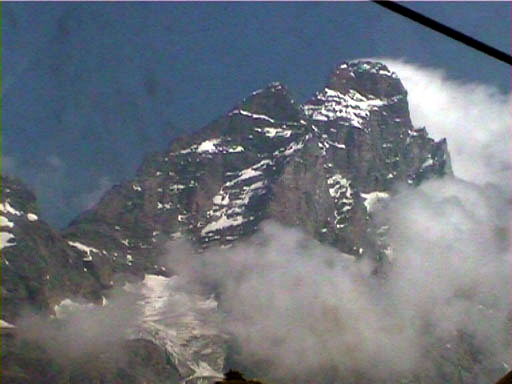 The fire on the summit was at its high in the afternoon. (Our route follows the left ridge)
she looks BIG! Some clouds are rolling in at this point and as we descent towards the East, it quickly deteriorates to dense fog. We are aiming for the Ayas Hut which is South East of the path but it is not clear when we need to turn down towards it. We very briefly see the ??? bivi hut to the north but we are not clear which is the right way.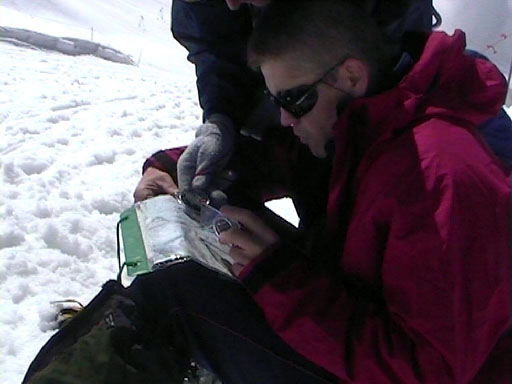 Where is that damn mountain?
After a lot of looking at the map we go down in a spot which has some paths going down. It looks promising for a while but then it gets "interesting" with crevasses and complex seracs. Mathias tries to find a way through which required quite a bit of composure. A Dutch pair has followed us down and they are getting into some steep dodgy ice bits- doesn't look too clever. Eventually it just gets too hairy and steep and we decide to go all the way back up to join the path.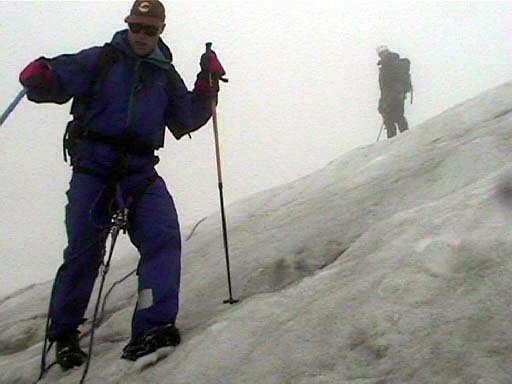 Uffe showing off his downhill technique
We are all getting quite tired at this point and it is getting late. After more routefinding we eventually find the hut, and crash out!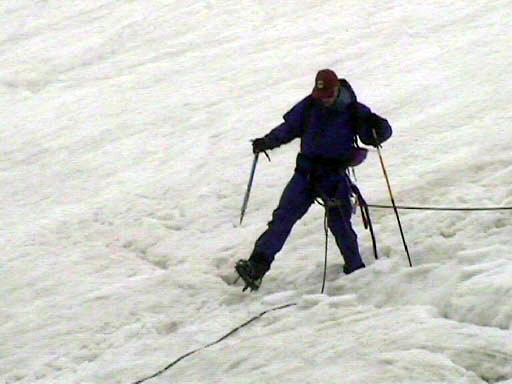 The Matterhorn Yeti looked more friendly than we'd thought.
Day 3
21 August 2000
Team mood:
Solidaric
Sean has set his watch to buzz at 6.45 in the morning! Now that must be one of the earliest starts that at least the Willerup Bros have ever seen. It's not human. We do manage to get up though and we are almost the last ones - everybody else must be pretty commited. None of us got much sleep all night if any. The height is definitely making its mark, but hopefully being up here in this altitude will make us cope better in a few days.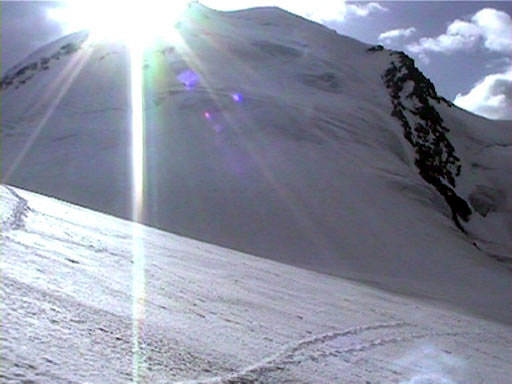 The route on Castor goes more or less up the front of the face
We head out towards Castor which is a 4.240 meters toothpuller. We walk in quite a slow but steady pace and we eventually reach the summit at around noon. Nice view of the Liskam from up here, everybody but Mathias enjoys it fully - Mathias officially declares his love of sport rock and low altitude activities. After a few summit photos - might be the only ones we get - we head down in a fantastically pleasant descent.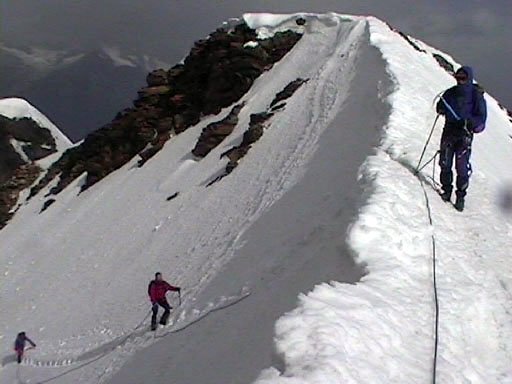 On the summit ridge of Castor
There was talk about climbing another peak, but Mathias puts his crampons firmly in the ground and says "No f*cking way am I going up two mountains in a day". The weather was also deteriorating so the team acts solidaric and goes with Mathias soft option.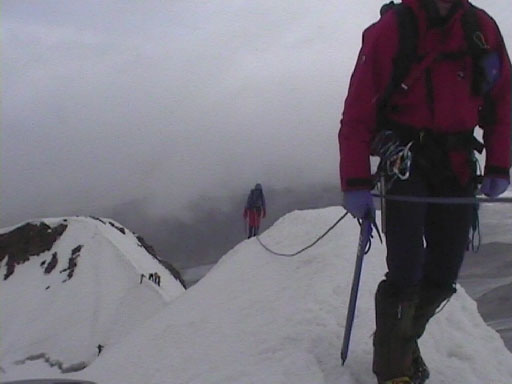 Sean and Mathias on the top of Castor
We go back, towards the hut, but stop at some point near a massive crevasse and have a go on some real rescue practice. It's really interesting, because we try out most of the different systems and this new "mini traxion" pully thing is by far the absolute fastest and simplest system. Yooor! We also find out (by using Uffe as the guniea pig) that it is not a lot of fun prussikking out of an overhanging crevasse!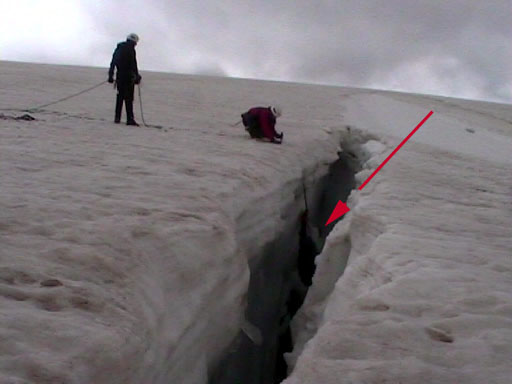 Uffe hanging out to dry (he's where the red arrow is)
Uffe: The biggest problem was that my balls got badly jammed in the harness, ouch! OK, then I had problems sliding the prussik up and other technical details, but the balls were the worst.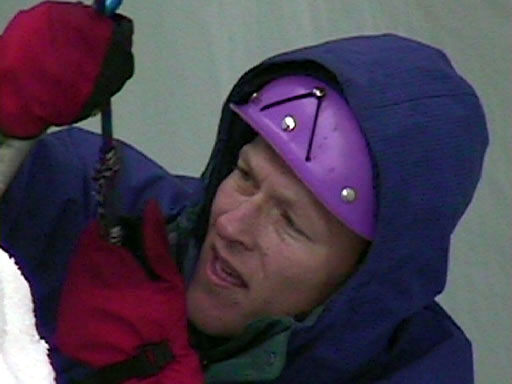 How do you do this prussik thing again?
Back in the hut it is pissing down rain all night, and the weather forecast is bad - we therefore allow ourselves two bottles of vino. Yoor.
Day 4
22 August 2000
Team mood:
Tense, but professional
Sean, the madman, had set his alarm clock for barbaric 5:30, just to check the weather. Much to the regret of the restof the crew, it actually appeared to be a gorgeous morning, clear skies and little wind.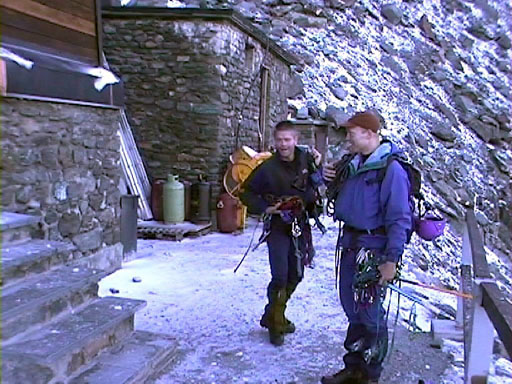 Dancing in front of Ayas hut
Team spirit: A bit slow, but otherwise high. Except for Uffe, who had his morning sickness and felt like a bag of maggots.
We got out on our old acquaintance the glacier at 7:20, OK.
Todays main objective was to climb the Pollux Mountain which is a 4.091 meter pile of snow and rock. The weather was absolutely perfect: clear blue sky, little wind, and best of all, the previous night it had been snowing and raining heavily so the rock was covered in perfect verglas and also a fair bit of that white snow stuff that looks like cauliflower on the rock. Beautiful and also perfect conditions for climbing this route which involves a lot of easy rock climbing. We now had the pleasure of climbing in crampons all the way to the top because of the frosty ambiance.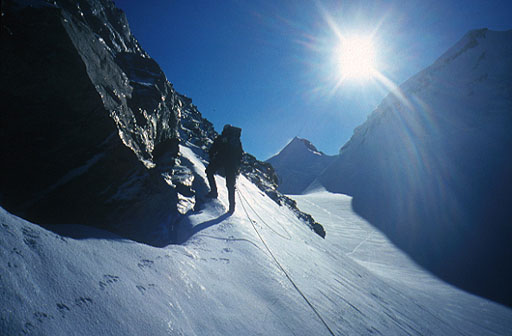 Finding the start of the Pollux route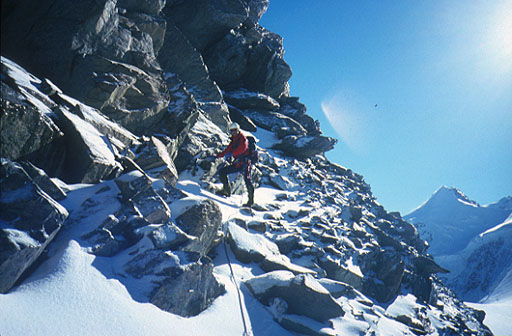 Weaving our way up the East side of Pollux- perfect conditions.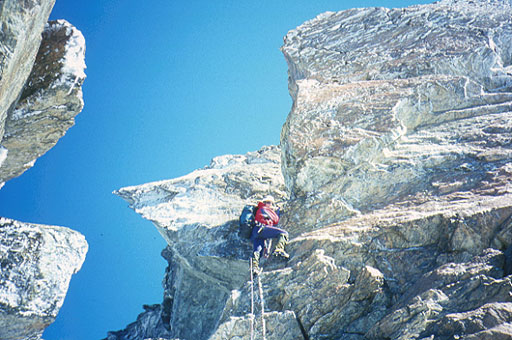 Steep bit with chains on Pollux
Sean happened to have the sharp end and after a bit of gearfaffing he lead steadily up the impresive looking face. It looked easy, but with many unknown bits so the lead needed to be competent. We all made it to the top in style with a good bit of exciting crampon bridging, gnarly rockclimbing (front pointing) and the classic last bit - a perfect snowblown ridge up to a perfect view of the whole Aosta Massive. Wow. And another summit photosession and a Mathias feeling much stronger (and happy) on this todays summit. After maybe 15 minutes on the top we started our descent - a descent which would turn out to contain a bit more than we had bargained for.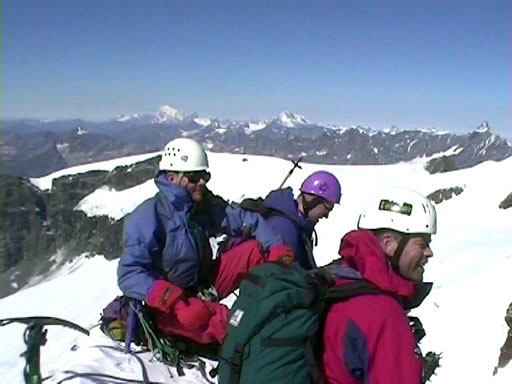 On top of Pollux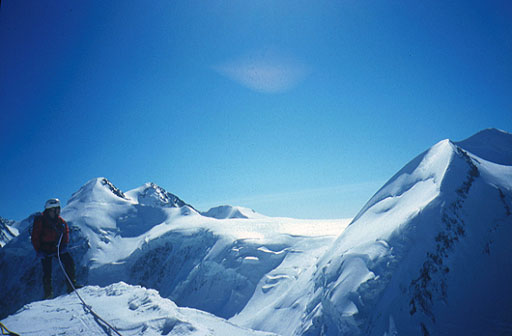 Sean enjoying the view
We had decided to go for the snow/ice slope descent - a slope which goes all the way from bottom to top. It looked steep from where we where on the summit, and it was. Sean lead away downwards, which was a good effort because we didn't quite know what to expect. It soon turned from the walking face ourwards to total frontpointing (or step kicking) face in towards the ice and one axe providing critical balance in the two step one hack technique. We were all on the same rope Sean first, Nmathias second, Fred third and Uffe fourth. It's sort of and interesting scenario because if the last person should lob off he would look into quite a good distance before being (hopefully) picked up by the third person who would have to arrest the fall quite miraculously as if it was a really fall would have gained a lot of force. Anyway - this wasn't even close to happening, so moving on ... Sean was leading in good speed but he started complaining about not being able to frontkick with the right foot. This was when we noticed two vultures circling in the sky above us. The skies were closing in. The crisp sound of steel against ice filled the air.
Easing our way down the South-West face of Pollux
Then, in a split second, the situation changed from committing to severe. Sean's ice axe lost its grip, he lost balance ... he instinctively kicked with his best foot, the right one, but all that happened was that he lost his crampon. Fred saw it dancing down the slope, going, going, gone, as a grave omen of where we would end if control was not quickly regained.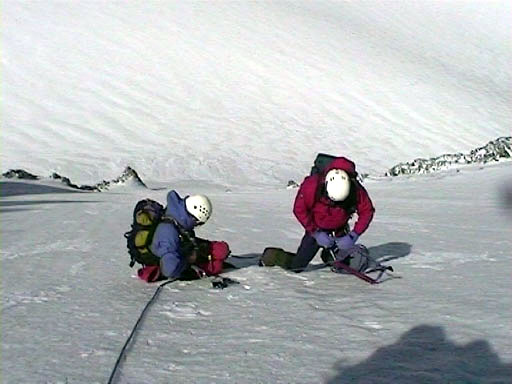 Spot the crampon 200m below!
Sean was off. His right crampon had worked itself loose and there was no way to stay in situ on this medium without at least three points of contact. Trying to stop his slide with his iceaxe didn't seem to work, so suddenly it was for real - number two (Mathias) had to brace himself to the slope, kick his feet firmly in the ice and hammer the axe deep in. It worked. Sean's "fall" had been held. Fred and Uffe hardly noticed. The next steps needed to be taken was obvious - Sean couldn't lead the way with only one crampon, so we had to swap leads. Sean established himself with an iceaxe stance and Mathias climbed down to Sean making his own stance and we then swapped the ropes.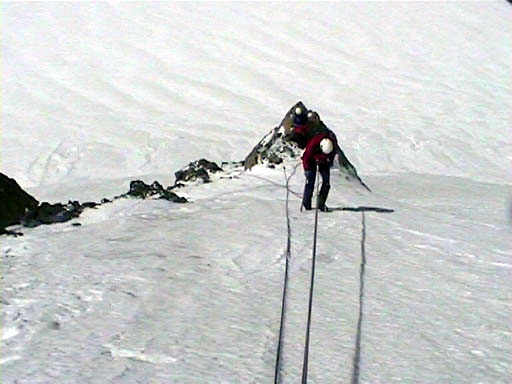 Sean abbing off
The plan was that Mathias would lead kicking big steps with the right foot enabling Sean to climb down with his one crampon. This worked fine for maybe 100 meters until we hit a band of pure ice. This was impossible to kick steps into so I started chopping steps with the ace, which wasn't very easy only standing on the frontpoints chopping with a walkingaxe. After chopping maybe 10 steps I could see it might never go. We were still quite far from the ground and this would take ages to chop steps by hand and it wasn't even certain that Sean would be able to stay in situ on this much harder section. So we decided to change tactics. Luckily we had a spare rope and we decided to lower Sean a full 50 meters from icescrew belays and he would then establish himself and wait for us to arrive and then we would lower him further. This worked out really well- thanks god for the icescrews.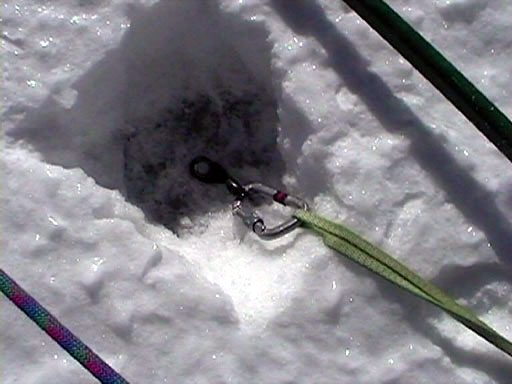 Sean was deep in the ice, but with ice screw firmly in his head we could easily get him out
We all make it safely to the bottom at around 3pm.
The walk back was nothing short of a trudge back through soft snow beneath the three summits of the Breithorn on the one side and the snow fields ending in the large serac system we got lost in two days ago on the other side. We saw a couple of icefalls as we travelled along, one of which was enormous, like something from a film.
Day 5
23 August 2000
Team mood:
Bored, restless
Rest day, very boring... Good meal in the evening.
View of our main objective from Cervina
Day 6
24 August 2000
Team mood:
Excited
The ascent to the Carrel Hut.
Got up around 8 after 10 hrs of sleep, interrupted by a few drunkards singing in the streets - we readily forgave them because had it been any other night, we'd be right down there joining in.
Team mood: anticipative. Several toilet visits each, within one hour.
We caught the jeep at 9:30. There were two jeeps going, 10 people or so going at that same time - we were scoping out everyones gear, were they going lighter than us, did they appear more fit. In most cases, yes to both!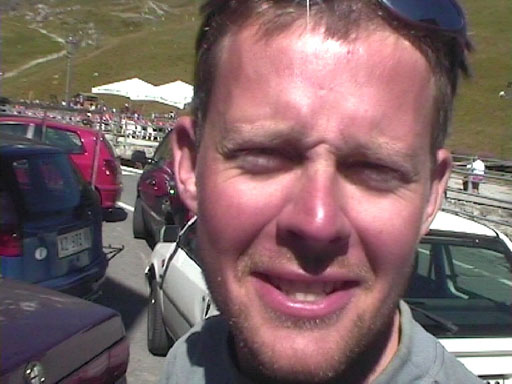 This year the fashion was not brown, but bright pink.
After 30 minutes along a rugged road, and 15 quid poorer each, the jeep driver let us out at the Abruzzi hut at 2800 meters.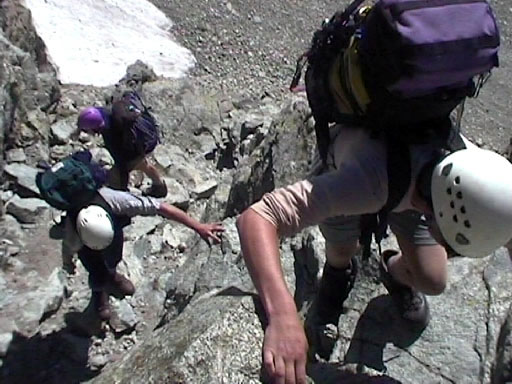 It was hopeless - the three turist was never going to find Fred's car keys.
The path from the hut and up towards the Carrel (3800 meters) hut was easier than we had anticipated. The first 800 vertical meters were easy walking. After that came some snow patches were we roped up, Sean and Fred on one rope and Mathias and Uffe one the other. The snow was not difficult in any way, but in case of a slipping foot the fall would have been so far that the rope made us (well at least Uffe) more comfortable. Neither ice axe nor crampon were necessary.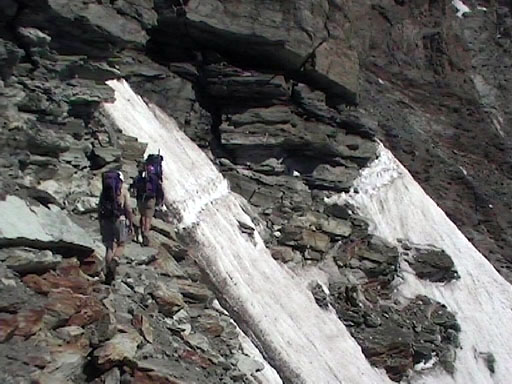 The two skiers was not impressed with this years skislope.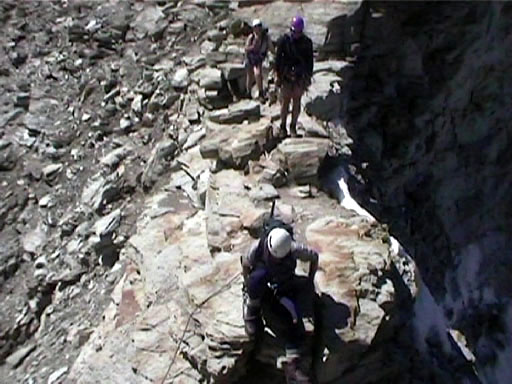 At the col
After the Lions Col, the climnbing got a bit more difficult. But still, anything above grade II or III- was equipped with fixed ropes (two inch three stranded nylon) or chain (half inch, big enough that one could place a quickdraw in it which made protecting the climb very easy).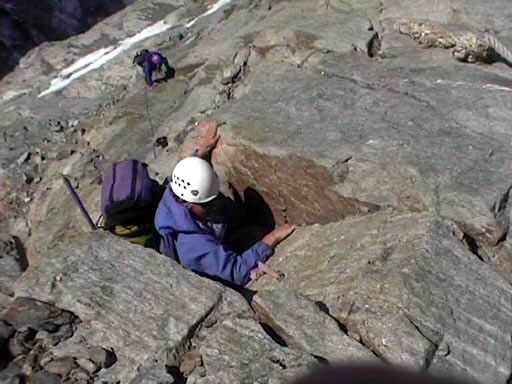 Pushing blocks in the quarry was not pleasant work
We short roped most parts, and only pitched one 12 meter section (the whymper chimney) which would have been III+ or perhaps IV-, had the chains not been there.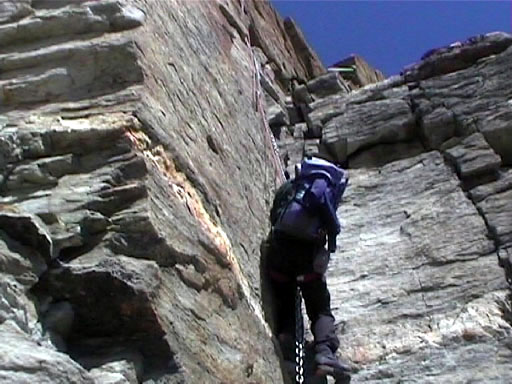 Whymper's Chimney
We arrived at thr Carrel hut around 2:30, after exactly 4 hours from Abruzzi, surprised how relatively easy the day had been. The weather was gorgeous, blue skies and little wind, although a few light clouds in the distance caused a slight concern.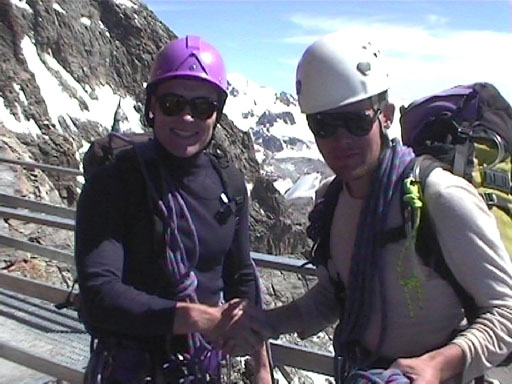 Mathias agreed he would never mention Uffe's Purple hat again.
The biggest excitement of the day was due to a group, two guides and their three clients, who ordered a helicopter to take them back to the valley because they were too tired after the 'Horn to walk back down. Quite a show, when the chopper arrived and they were liffted up. To our surprise, the lift was only 600 pounds for the lot, and then the chopper even had to do two trips because it could only fit four people in one lift.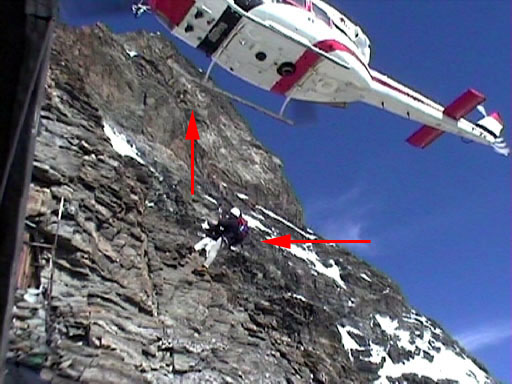 Sean wanted pizza so we got a take-away from Cervina
There was a lot of people at the hut, perhaps thirty, and the line to the stove was a bit annoying so we regretted not having brought a stove and pots. We also heard that the line up the mountain from the hut would cause delays, and since there had been a few traffic jams going up, it lead us to consider how to position ourselves in the caravan. Sean set his alarm clock for 5 (and probably enjoyed it, too, the bastard).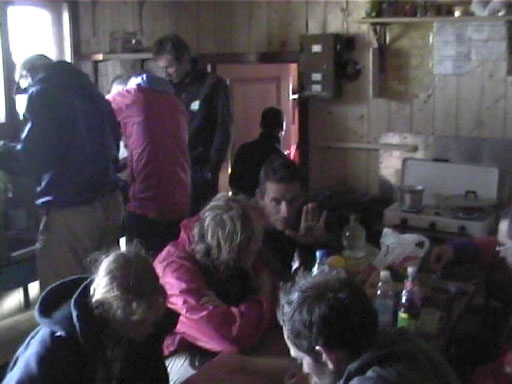 Inside the hut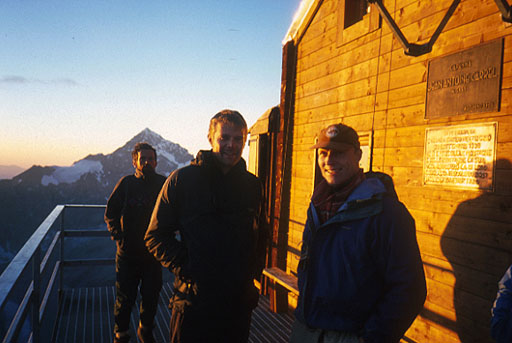 Outside the hut - Mr. Unknown, Fred and Uffe
Day 7
25 August 2000
Team mood:
Knackered
Uffe's version: At around 4 in the morning, people in the hut began moving about. Obviously some wanted to get an early start; perhaps they were planning to descent at the Hornli Ridge? Well, we got up at 5 as planned, and watched the line of litlle light dots - the head lamps - moving up the mountain. Since we had given up on breakfast - considering how involved boiling water was - we were actually in no rush. We had a drink of water and a few granola bars, and at 6:15 we were ready to begin the ascent. It was light then, although the sun was not nearly in sight.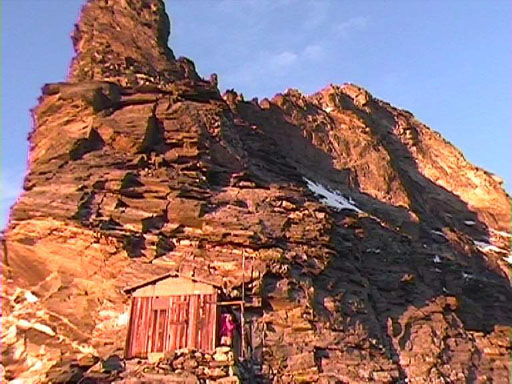 First pitch starts just behind the hut
The very first pitch from the hut was a bit of a bottleneck - because most, like ourselves, chose to pitch it rather than short-rope it. Still, the waiting time was no more than a few minutes. I was on rope with Mathias, and as would promise nobody who can compare our climbing skills, he led. It was a good start, firm, solid rock, with a nice little bulge at the top. It would probably have been easy to negotiate, but considering what was in waiting - and the group waiting below me, too, I took the easy option and pulled through on the chain. Points of style was no consideration.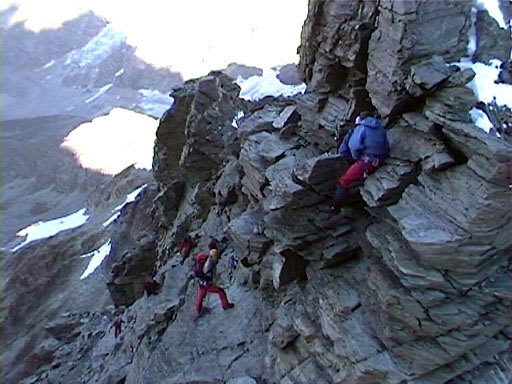 Finding our way to the ridge
From there, the route was a combination of scrambling and easy climbing, and just about everything which had a scent of climbing to it was equipped with fixed 'ropes' - which could be real rope (nice on the hands), chain (made it easy to protect) or half inch wire (a pain). Where there was no equipment, there were plenty of bolts for placing runners.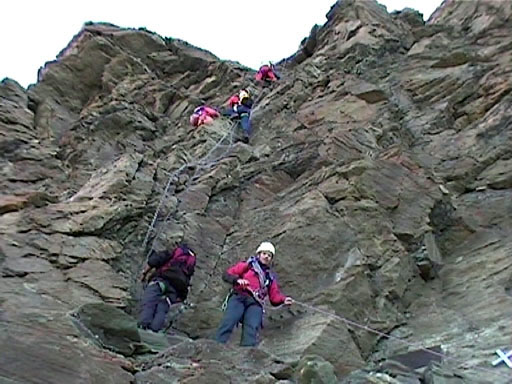 One local got the idea of weaving a net around the moutain. Everybody helped.
As the route approached Pic Tyndall - the pyramid which looks a lot more pronounced from Cervinia than it is when you stand on it - it became less steep, more loose, and with a few icy snow fields. Weirdly, the amount of equipment and protection decreased to about nothing. I figure the gear is not there for the safety of climbers like us, but rather to guarantee the speed of a guide with his client. On this ground, the guide would feel confident and he would not want to waste time with protection. We, on the other hand, were shit scared about the consequences of a foot slipping on the icy snow.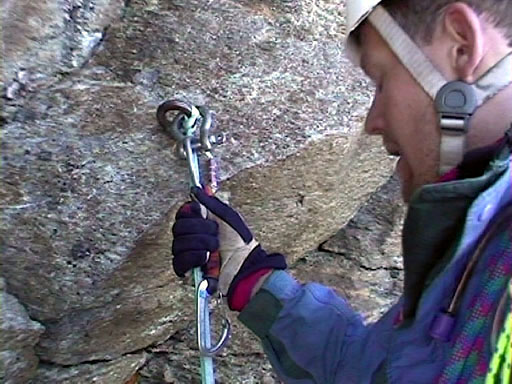 Mathias had a quick nap while holding on to a solid bit of gear.
We arrived at Pic Tyndall 3 hours after the start. This was certainly acceptable in comparison to the 'Guide time' of 2 1/2 hours. Still, Mathias and I had not really enjoyed the last sections, and had Fred not pushed through, we may very well had agreed on pursuing a gin and tonic in the valley.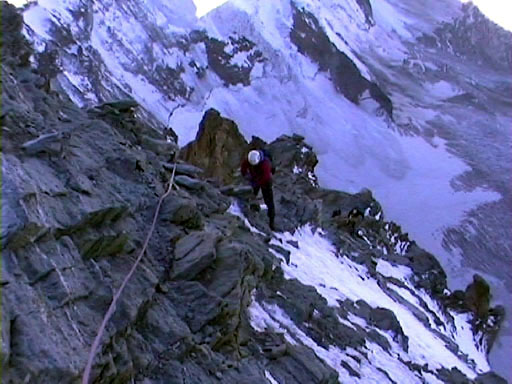 The ridge before Pic Tyndal
However, after the Pic the climb became a lot more enjoyable. The rock was steeper and less loose, and since the equipment was again plenty, there was less paranoia. There was even a ladder leading over one of the steeper sections.
The Dentist had obviously failed.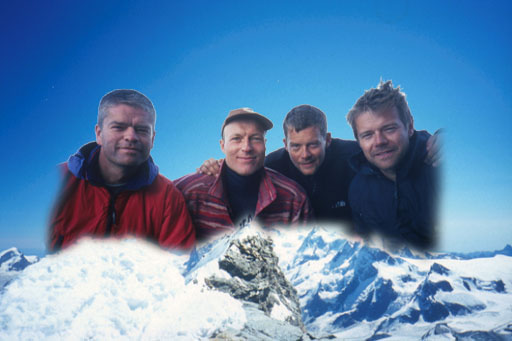 Cheesy photo collage - the top of the Matterhorn
We arrived at the top at 12. There was a group of Englishmen sitting there - we had met them at the Rifugio the night before. There was sun and no wind. An awesome feeling. Fred and Sean wanted the Swiss summit in the bag as well. Normally this would have been a five minute thing, it is 25 meter north-east and 2 meters up, but at this particular time the English group was messing about with their crampons or something in between, so it took quitea bit longer until we could take a picture of the two yelling 'yor!'. Meanwhile Matis and I got a well-deserved rest, assuring eachother that this would be our last mountaineering experience (Matis later added: ' ... until the next one').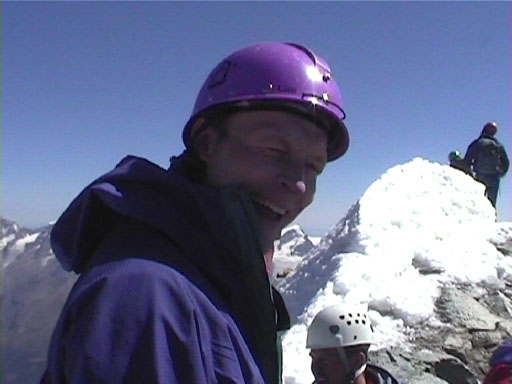 Uffe saying goodbye to his camera on the Italian summit
Going down proved to be take longer than going up. Whereas we had done the ascent in slightly short of 6 hours - close to the Guide time of 5 1/2 hours - the descent took us 7 hours compared to Guide time of 4 1/2 hours. The big difference is, I guess, that the Guides lower their clients down the steep sections and then downclimb solo themselves. This is very fast but requires a tad confidence and better route knowledge than we had.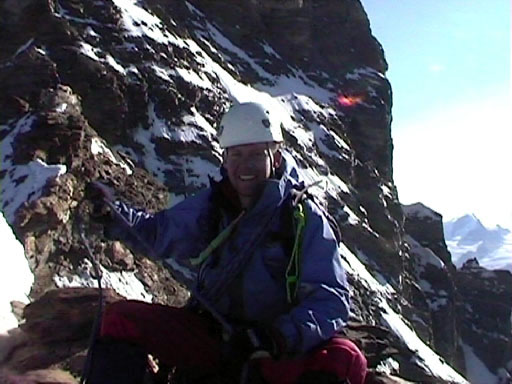 At Pic Tyndal- tired as an ant
After a short while Matis took initiative to change partners. He had led all the way up, me seconding him, and he needed a mental break from being on the sharp end.
Mathias: I was tired. Very tired. Uffe and I had been steadily climbing behind Fred and Sean all the way to the top, but it was obvious that they were climbing faster than us, and after reaching the summit, I thought that it would probably be best to split the teams so Uffe and I wouldn't lack too far behind. I was really knackered and thought it would be best to have somebody else lead the way - although leading down a mountain actually isn't more dangerous than secondning it still requires a fair bit of thought and I was ready to just blindly whoever led after having led all the way up the mountain (Sean and Fred swapped leads). Anyway - Sean and I teamed up and Sean led the way down. I was very exhausted at the end and was pretty happy when we arrived back to the safety of the hut in 3.800m at around 7pm. The descent had taken 7 hours involving a mixture of abseiling, downclimbing and kneegellying scrambling.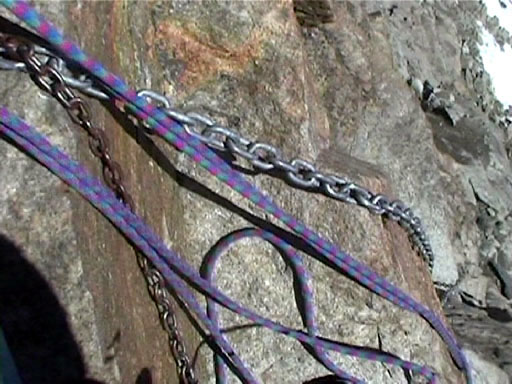 There are chains on all the harder sections
The hut was very full when we arrved as one of the last parties that night. We couldn't find beds for everyone of us so Sean, Uffe and Matis cuddled up on two neighbouring madresses while Fred squeezed in in the midst of a group of gigglers - which seemed like fun at the start but proved very obnoxious as the night progressed. We were all at the top layer of bunks, just under the roof. It was unbearably hot and it felt like there was no oxygene, so we didn't get much sleep if any until around five o'clock when we could take over some bunks further down.
Day 8
26 August 2000
Team mood:
Reliefed
Next morning was slow, we even took the time to have some of Sean' trademark oat porridge, and uneventful, except for another helicopter 'rescue' - an old man had appearantly hurt his arm and was moving very slowly so his guide decided that it was better to get an air lift than spend a lifetime on the descent.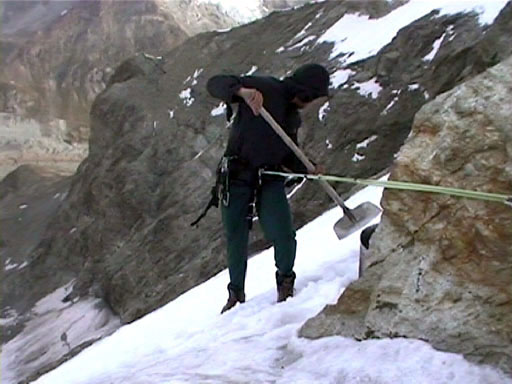 Fred had had enough - and decided to clear the North side of snow
We walkeed down in perfect weather (Sean actually ran parts of the way) and arrived in Cervina at 1.30pm. Had a shower and then off for a well-deserved pint.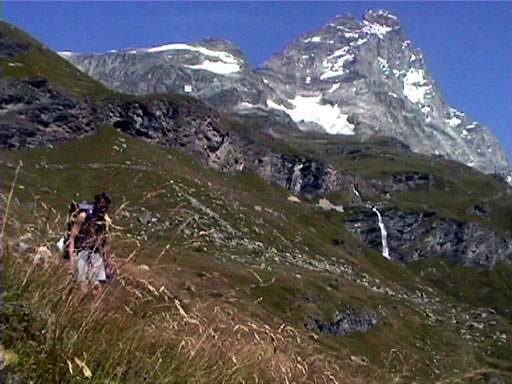 Going down
Needless to say, we got appropriately drunk at night, had many a fine cocktail in the Ymeltrob Alcolab (highly recommendable) and ended up on the local discoteque 'Les Etoiles' - an unbelievably expensive joint well hidden in the outskirts of town where appearantly every last wannabe in the valley was to be found. Matis and Uffe closed the place at around 4 in he morning and entertained everyone who could be bothered with Shu-bi-dua songs while walking back to town. Vamos a Bailar, dubi dubi dah
Day 9
27 August 2000
Team mood:
Hungover big time
Woke up feeling a little under the weather to say least, but after a little breakfast we were ready to make the most of the day. Firstly we had a short walk around the town looking in the shop, then stopped for a coffee and toast, then went for a slow walk around the town, stopping for a coffee and juice on the way before continuing around the town looking in all the shops, calling in at one place where we had pizza and coke. By this time we were quite tuckered out and to have a quick kip was the only way to prepare ourselves for a further walk around town and another coffee stop or two on the way, altogether a very exhausting day.
Great meal in the evening
Day 10
28 August 2000
Team mood:
Happy
Spend the day in Milano being guided around be Paola. We slept rough in Malpensa airport which was really good actually.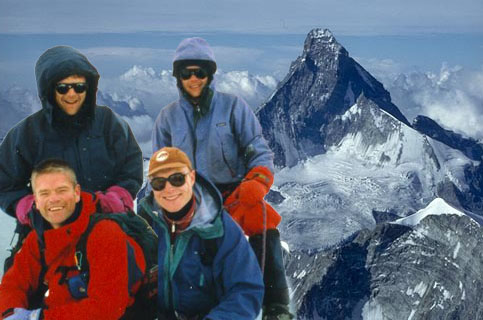 Also available
Pack List
Photos
Still curious about Matterhorn? Just ask us here:
---
1996 - 2018 Willerup Brothers