The night was really cold and very windy, so it is hard to get out of our warm sleeping bags. Eventually we manage to put the kettle on, and a strong cup of coffee enables us to face the cold new day. We are camped in Hidden Valley campground, not a bad place to be for Joshua Tree rock action. Plenty of great looking routes within spitting distance.
We rack up with the new ropes we bought in San Diego, and with a slightly heavier rack due to the new camalot 4 and other bits of hardware we couldn't resist bying yesterday. We have a "selected climbs" guide book and decide to sample some of the action on the South face of Intersection rock, a big chunck of rock just south of the camp ground.
The Flake 5.8


After some debate as to where the hell the routes are at Mathias rack up for "The Flake 5.8". The guide book we have includes some excellent topo diagrams, but unfortunately not for the area we are interested in. Oh, well. Mathias:"We had been wandering around the bottom of the crag trying to figure out which routes fitted our describtions - but the only on which seemed to fit and look doable was the flake - and although this was the hardest of the three we where looking at I got a bit impatient, got the rack on and dug into the seriously looking chimney leading up to the obvious flakesystem above. I had had a look at a chimney just right of the one that I was now struggeling in - it looked easier and a possible alternative start. After some hard work I binned it, went down and started up the other chimney. Felt much better - and I soon found myself up at a massive flake which could be liebacked most of the way up (with easy resting spots). The flake ends some 20 feet from the top in a sea of granite which had been granted two bolts as the only means of protection. I got the up to the first bolt and continued slowly and carefully past it. It was pretty marginal and I couldn't help thinking - shit, I am going to slip of this slab anytime now. But then I remembered Martin and my succesful climb earlier this year in Yosemite - the classic Needle Spoon, which is a feast in marginal slab climbing. If you can do Needle Spoon you can do anything I thought as I climbed past the second bolt. 5 meters left - you can't fall of now. Go on - you haven't been this far before, go on. The angle is easing of and I finally top out happy with some spectators below applauding.
Drawstring 5.7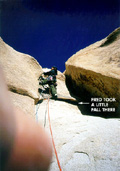 After feeling the harsh Joshua Tree grades, Fred feels like an easier lead and we find Mike's book, a 5.6, in the guide. Well, we cannot actually find the damn thing, so I end up just selecting a line that looks feasible and head off. It starts in a pleasant little corner that soon bites back with a little overlap about 8 meters up. Further up there is a reasonable looking crack and beyond that, who knows? I set off with confidence - not something I have had lots of the last few weeks, so that is a good sign. The overlap stop me for a bit, though. There is a massive undercling, but then very little above it to pull through. It is hard to get the feet in balance under the overlap as well. I put in a good #0.5 and the good old HB 3.8 fits nicely in the undercling. I put up the right foot on a sloping something and get ready to pull over, but as I put my weight on it the foot suddenly slips and I plummet towards the ground - ok, only for about a foot or so before the rope goes tight on the HB 3.8. Pretty undramatic fall, but a surprise to suddenly slip off and not great for building up confidence for the rest of the route! I quickly try again though, and a little more careful foot placement gets me through the section - although not in a very graceful style.
---
As I put my weight on it the foot suddenly slips and I plummet towards the ground
---
10 meters of fun climbing gets me to the base of the crack system I'd seen from below. Dammit!, it's a bloody offwidth. I hesitate for a while considering whether I should find an alternative line by traversing left or right. It is certainly nowhere near the route description for "Mike's book", so I wonder what will happen if I start venturing into this unknown territory. It looks like protection might be a problem, the offwidth continues for 10-15 meters before it narrows suddenly to little corner, but it doesn't look like there is a crack in the corner. Above that, the corner disappears and there is nothing but blank rock, but the angle eases considerably up there, so it will probably be possible to climb up on friction alone - just like the top section of The Flake. With the offwidth experience from El Escalon fresh in my mind, I edge up into the crack with considerable doubt. I get a few bits of pro in at the bottom of the crack - a solid #9 nut, a sling around a bollard, another really marginal sling and a camalot 3. That's it, though. About 6 meters futher up is the only other hope of protection - the crack looks just narrow enough for the newly purchased camalot 4. I pause for quite a while, not wanting find myself up there and discovering that the cam won't fit. No chance of retreat up there, only up or a serious fall down. Ok, here we go. The climbing is not that difficult but it's awkward moving up that bloody offwidth. After some not-so-graceful wiggling up the crack, I find that furtunately the camalot seats itself nicely. What a relief! Man, am I glad we bought this extravagant bit of gear in San Diego yesterday for a mere 80 bucks! I would have paid double up here with no other hope of protection... Anyway, the crack kindof stops at this point but the angle is easing off so it goes with slab climbing on no the blank wall with little bulges on. It gets very scary as I move further and further above the camalot. It is easy, but it is not inconceivable to slip up here on the little pebbles. Hey, a bolt to the left. I run it out further, very very slowly. I clip it with relief. I move up a bit, but then Mathias shouts that I only have a couple of meters of rope left. Shit. After some really delicate wandering on the featureless slab I find another bolt to the right, and -thank god- an anchor a little above. I'm done.