Willerup Brothers | Trip reports | Our friends
Trip report: The Saunders Lakeland Mountain Marathon
Date:
July 4-5, 1998
Danish Version in here
Runners:
Mathias & Martin, Tim & Claire
Class:
Carrock Fell
Area:
Lake District National Park
---
Martin Beale and I had teamed together to do our first Mountain Marathon in the Lake district along with Tim and Claire. We headed up North in Tim's car listening to Denmark - Brazil "Live on Five". A pretty exciting match which unfortunately ended 3-2 to Brazil.
We arrived at the Saunders Campsite near Scafell, set up our tents and got sorted with gear, maps and other bits and pieces. Loads of people had already arrived and it was quite a good atmosphere. I was a bit worried about a slight pain in my knee but hoped that it would be gone in the morning at the start of the great race.
We went to bed around 11 o'clock.
Next morning bright and early we rose to the sound of preparing runners. Tim and Claire was starting at 8:19 and Martin ad I at 8:20. Before we knew it the time had come and we rushed of to the starting line and boom we where off. Quick get the course reference note, find a flat stone somewhere, point in the 6 grid references, head off. Whoa - not much time to enjoy the scenery, just hard competitive spirit!


Claire running near Ennerdale.
Martin and I started like everybody else to walk in a fast pace up the steep start of the course to checkpoint 1. Half an hour later (having passed Tim and Claire on the way) we arrive at CP1 and get our first tick from the officials. Yooor we are rolling!
Martin sorts out the route that he reckons we should try while I try to calibrate my altimeter. Counting the contours I got the height to be around 500meters which later turned out to be only 120 meters off (!) (I had counted the wrong way - hey that's the way you learn I guess

)
Off we go - CP1-CP2 is quite a distance (the longest one) and we get started with the tough stuff. Run, check compass, run, check altimeter, run, check map, run. Weather conditions: misty, damp and the occasional drizzle - typical Lake District. We go go and go and eventually (2 hours later) we find the CP2 well hidden in the mist behind a knoll. My knee is unfortunately not feeling to well, actually I was thinking seriously about not being able to make it as the down hills especially gives me great problems. But arriving at the Checkpoint seemed to give me renewed energy and faith in completing the sucker so I ignore my softness and we carry on towards CP3. Hard uphill and then afterwards a brilliant downhill on gently sloping grass. Absolutely beautiful. My f*cking knee is killing me, and I gotta stop and I finally decide with Martin's approval to take a Paracetamol. It's a bit of a dilemma as the painkillers could fuck up your concentration but I don't have any choice as I have started limping. So I swallow a pill or two and we carry on and arrive at the CP3 shortly after. Hurray - Three down three to go. Knee finally feeling better. We rush off quickly towards CP4 and we seem to be doing pretty well.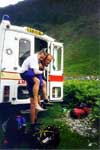 Martin and I in front of the Ambulance.
Well - what then happened was the following: We hit a forest track and we go fast downhill. Just before the track finishes I twist over on my right ankle really badly, I carry on running for a minute or two and we get out of the forest. I look down on my ankle and I get a shock! There is a bubble of swelling of the size of a small tennis-ball on the side of my ankle bone. SHIT! I show it to Martin and we both know that the race is over for the both of us.

We struggle for three hours solid to get to the mid way campsite and at the final stretch going downhill from the Scarp Gap Pass my leg has gone completely and Martin is piggy bagging me down all the way pure Vietnam style. We arrive at the campsite and I get some treatment from the first aid team, and eventually we drive off to Keswick Hospital, Penrith Hospital and eventually Carisle Hospital to get an X-ray. Nothing is broken and we head for the pub and look forward to the well known nightlife of Penrith.
The day after we pick up Tim and Claire who completed the race on a 30th place. The second day was according to them not near as hard as the previous day and it was painful to have missed the opportunety of completing this fine race.
Mathias JULY98
---
1996 - 2018 Willerup Brothers