Willerup Brothers | Trip reports | Our friends
Date: January 31, 1998
Climbers: Mathias & Tim Wilkinson
Climbing: English Ice
Area: Lake District, North England
We had been waiting for conditions to be right for most of January and finally the reports where looking promising. JackFrost had had his grip on The Lakes for a while and we decided to head up to Penrith that Friday afternoon.
We arrived in Penrith just before pub closing time and we went in to the first pub with combined B&B in the center of Penrith. As we enter the fairly local looking pub the first table we pass on the way to the bar 4 women lifts their heads and shouts "Whoohoo come and talk to us". Seriously!
---
We place ourselves at a table in a quiet corner of the pub but even here we get looked at by another slightly more dodgy crowd of load speaking women
---
I was shocked and followed Tim closely trying to act cool and ignore the wild girls at the table. We make it safely to the bar and the bar woman is pretty rough as well and eventually we manage to book a room - after having ordered our beers naturally. The atmosphere is quite okay. We place ourselves at a table in a quiet corner but even here we get looked at by another slightly more dodgy crowd of load speaking women. It only add to my first impression of The North when a hopeful young male approaches their table and on of them shouts to him "You! You can f*ck riiight off.". We look down and try to be one with the shadows. :-)
Next day we get up reasonably early despite having downed quite a few pints the night before. We head out to Scafell, Great End where we rack up on the car park and head in towards Central Gully.
It's cold but there is not a lot of snow. Central Gully looks quite impressive as we arrive at the bottom of the 200 meter gully.
A few other teams are up on the route, and we quickly get ourselves sorted as more teams are approaching in below us. Tim starts the climb and I soon follow. YEAH! Finally - the first ice climb of the season and my first ice climb in England. I hammer my ice axes in the ice and follow with kicking in my crampons. There is only a thin layer of ice but it seems to hold okay. As I arrive up a Tim's stance he gives me my first lesson in English Ice Climbing."Conservative Blows mate". I thought it was all "Big muscles no brain" but because of the sparse ice, you have to be much more gentle than on a thick glacier in Chamonix. So I lead the next pitch with Tim's words in my head and I get an enjoyable second pitch of nice and well protected climbing.
We continue for another 6 hours or so, and apart from me dislodging a quite sizable boulder we had a perfect climb.
Afterwards we head back to Penrith for what is to be my first real introduction to North English nightlife.
Having returned from the climbing we start in "our"pub which is absolutely packed at 5-6 pm. Great! We get some beers in and stay until 11pm. We then move on to get a Curry on the local Indian and it looks like this is what everybody else is doing as well, so we have a great time there. I have a brilliant dish packed with chili, forcing me to drink even more of the local nectar.
After the meal we follow the crowds to the "Bar that has open until 2" and we enjoy an hour there. The night is just starting. When this bar closes we find out that people go to "Spinners" and we find this disco just around the corner. We get in, and it turns out to be a huge nightclub packed with people from all ages. Later we find out that there is an even more full downstairs and we stay there until we desperately exhausted drag ourselves to our humble chamber in the pub where we started. Excellent concept!
Next day there is a thaw and we drive around the Lakes spotting routes and eventually we head back down south to Bristol. What a weekend!
As we drive down the M5, Tim looks over at me and says "Mathias,I really enjoyed that". I sigh and tell Tim to stop the car. He pulls in to the side of the motorway and we sit for a moment quiet reflecting over the weekends events. Finally I break the silence and say "Tim, let me give you a hug". As we embrace each other I squeeze gently, we both shed a little tear and a big lorry thunderers through the night over the gray moonlit tarmac.
Mathias JAN98
[only one of the paragraphs is fiction - honest!]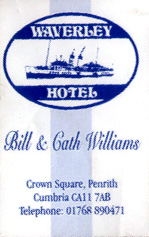 ---
1996 - 2017 Willerup Brothers