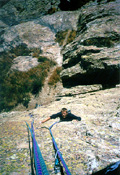 We feel like having a go at one of the multi-pitchers that summit on the top of the monolith. Luckily we bump into a young climbing couple who can show us where Bernalita and Lado Oscuro de la Luna (Dark side of the moon) are. We quickly run down to the town for a bite to eat, and return to the rock at arond 4pm. At bit late really: it gets dark at 6pm and these routes contain at least five pitches. With that in mind, Fred leads off on Bernalita - the easier of the two routes at 5.8.
The climbing is easy but steep and fun. There are bolts everytime you need one. The only problem we are having is that the first four pitches are a full 50 meters long, so we can barely reach each stance! The belayer has to climb up the stance a bit at the end of the rope so the leader can clip his cow-tail into the bolts. A 60 meter rope would have been better. Anyway, we make our way up alt leading pitch by pitch, with little messing about. The crux is perhaps a steep move on the fourth pitch, but all in all the climbing is pretty straight-forward. The top two pitches are a bit dodgy with a fair bit of loose rock, but after six full pitches and exactly two hours of climbing we are at the top. The last rays of the sun have been following us up the rock, and we time it perfectly as the sun sets behind the distant hills while we coil up our ropes.
Only one problem remains: how the hell do we get down from this thing? We heard that there is some sort of metal ladder somewhere on the other side but we are not sure exactly where. So we start scrambling down the other side, as it is getting darker and colder. Well, it turns out to be reasonable easy to find the descent route, although it did involve one abseil from a rusty old iron ring. We are soon down by the van, pretty tired after a good day on the rock.
---
So we start scrambling down the other side, as it is getting darker and colder.
---
Lots of restaurants in the pueblo but none of them open.